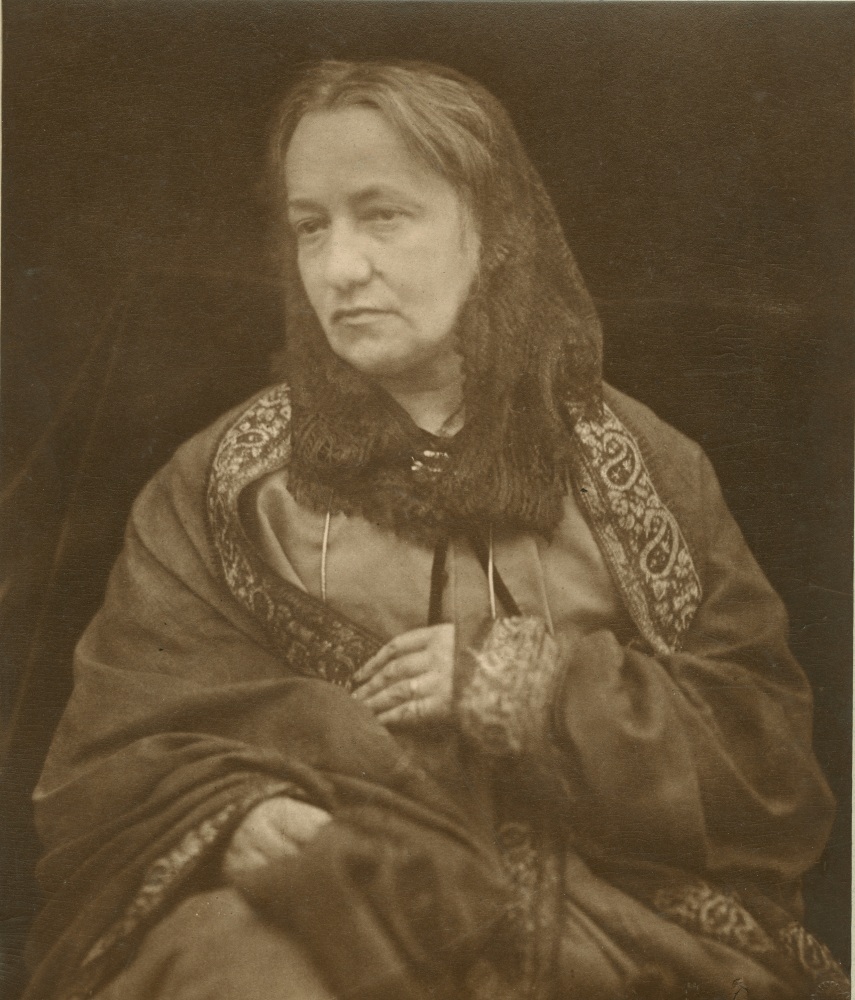 Born in Calcutta to an English father and French mother, Julia Margaret Cameron (English, 1815-1879) was largely educated in Europe. As a young woman, living with her parents in South Africa, she met John Herschel who told her about the invention of photography and who was to become a major influence in her photographic life. She was also introduced to Charles Hay Cameron, a British administrator twice her age. They married in Calcutta and became deeply involved in Anglo-Indian society. In 1848, they moved to London, where Cameron took advantage of the circle of artists, musicians and poets surrounding her well-connected sisters. In 1859, after her close friend Alfred Lord Tennyson relocated to the Isle of Wight, Cameron bought the cottages next to the reclusive poet on Freshwater Bay where she organized theatrical and musical events for her visiting London friends.
Cameron's daughter, also Julia, gave the photographer her first camera for Christmas in 1863 and, at age 48, she began taking photographs. Living and working within a broad intellectual and creative milieu, Cameron portrayed writers, scientists, and artists, as well as parlor maids and visitors to her home on the Isle of Wight, often using biblical, allegorical or mythological titles for her portraits that were familiar to her Victorian audience, to enhance their symbolic power. Using large wet collodion negatives, Cameron was more concerned with getting the light just right than in getting quite enough of it. Her unique aesthetic vision and unconventional techniques determined her distinctive style. Eschewing the narrow technical strictures that hampered so many of her contemporaries, her images gained a force of expression that easily triumphed over any perceived shortcomings. The results, while anathema to some contemporary critics, were hugely appealing to her famous sitters and those interested in them. Along with Roger Fenton, Cameron was also one of the first photographers to have gallery representation, selling her prints through the London dealers Colnaghi and Company.
Cameron's portraits of famous men and beautiful women, children and allegorical works, have never been out of fashion. They have always been viewed with interest and have been published and exhibited continuously from Cameron's lifetime to the present.
Recommended reading:
Julian Cox and Colin Ford, Julia Margaret Cameron: The Complete Photographs (Los Angeles: The J. Paul Getty Museum, 2003).
Larry J. Schaaf, Sun Pictures Catalogue Twenty, Julia Margaret Cameron (New York: Hans P. Kraus Jr. Inc., 2011).