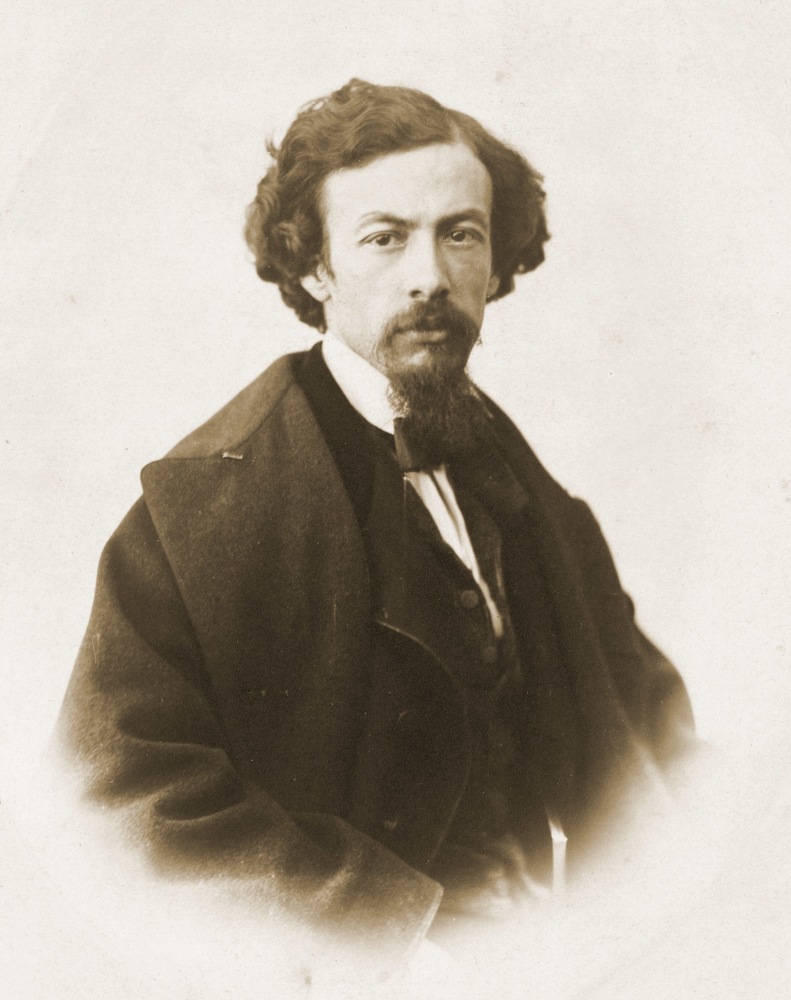 Gustave Le Gray (French, 1820-1884) was born on the outskirts of Paris to a prosperous merchant family. Trained as a painter in the studio of Paul Delaroche at the École des beaux-arts, Le Gray exhibited in the Paris salons. By the late 1840s he was an innovator in photographic processes and a pioneer of the waxed paper negative. As a teacher and author of authoritative manuals of photographic technique, Le Gray influenced a generation of nineteenth century photographers including Henri Le Secq, Charles Nègre, vicomte Vigier, and J. B. Greene. A founding member of the Société Héliographique and of the Société Française de Photographie, he made some of the most compelling images known in the early years of photography.
The excellence of Le Gray's work is reflected in a wide range of photographic subjects: landscape, seascape, portraiture, and architecture. His poetic photographs taken in the forest of Fontainebleau—first with paper negatives and later on glass—are masterpieces of light and shadow. In 1851 the Commission des Monuments Historiques appointed him to record French architecture for the Missions heliographiques. Le Gray's eloquent documentation of the military training ground at the Camp de Châlons near Paris, commissioned by Napoléon III in 1857, includes an occasional informal scene that offers a disarming counterpoint to his more characteristically structured compositions.
In order to best capture the rich tonal contrasts of sea and sky in his luminous seascapes, Le Gray devised the innovative technique of sometimes using two differently exposed negatives, one for the sky, the other for the sea, to make a single print. Le Gray's seascapes, the work for which he has been most celebrated in his lifetime and after, brought him international recognition for his technical and artistic achievement.
Difficulties with his creditors and a troubled domestic life led Le Gray to abandon his family and set sail with Alexandre Dumas in 1860 on a tour of the Mediterranean. After traveling on his own to Beirut and Baalbek, he settled in Alexandria. By 1864, Le Gray was living in Cairo where he taught drawing and painting at the Viceroy's École Polytechnique. In Egypt he continued to photograph, returning mostly to the waxed paper negative process. He died there in poverty in 1884. His views of monuments along the Nile are a bold record of the enchantment the ancient land held for this gifted French artist.
Le Gray exhibited extensively in France, as well as in Great Britain and Belgium. In the same way that Le Gray's painting led him to photography, his photographs were an influence on the painters Gustave Courbet, Camille Corot, and the French Impressionists, themselves visionaries who ushered in a new way of seeing. "He took up photography when it had neither a reliable technical program nor guiding aesthetic principle" writes Eugenia Parry Janis in The Photographs of Gustave Le Gray (1987), "and, in the face of much opposition and ridicule from scientific circles, he provided the medium with both." Through his photography and teaching Le Gray led the generation that would elevate photography to a fine art.
The exhibition, The Photography of Gustave Le Gray was held at The Metropolitan Museum of Art, New York, 4 June – 16 August 1987, and at The Art Institute of Chicago, 18 September – 6 December 1987. The exhibition Gustave Le Gray 1820-1884 was held at the Bibliothèque nationale de France 19 March - 16 June 2002, and the J. Paul Getty Museum, July 9 - September 29, 2002.
Recommended reading:
Sylvie Aubenas, Gordon Baldwin, editor, Gustave Le Gray 1820-1884 (Paris: Bibliothèque nationale de France, 2002).
Eugenia Parry Janis, The Photography of Gustave Le Gray (Chicago: The Art Institute of Chicago, 1987).