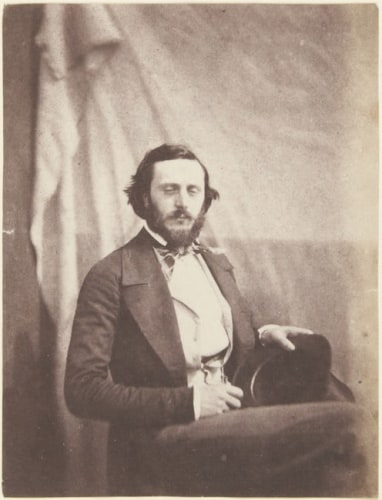 Charles Nègre (French, 1820-1880) was born in the French Riviera town of Grasse and arrived in Paris to study painting around the time photography was announced in 1839. Nègre was intent on becoming a history painter and took up study with the popular master Paul Delaroche. Nègre's fellow students included the future photographers Gustave Le Gray, Henri Le Secq, and Roger Fenton.
Nègre was quite successful in his painting career, having had several paintings accepted into the prestigious annual Salon exhibitions and receiving a gold medal for his submissions in 1851 and 1852. Despite his success, by the early 1850s his attention had turned towards photography and his passionate pursuit of its improvement would occupy him for the rest of his life.
Nègre was primarily interested in two concepts relating to photography: instantaneity and permanence. His use of faster lenses allowing for shorter exposure times made possible Nègre's realization of his unique insight into the potential of photography to capture the fleeting everyday visions seen by the human eye. His efforts to improve the permanence of photographic images led to his experimentation with photogravure processes and printing photographs in ink.
Nègre was deeply moved by the 1848 revolution and his art began to reflect this newfound awareness of history and politics. Nègre's paintings continued to include architecture and historical references, but more and more he began to depict the common genre types found on the streets of Paris – the washerwomen, chimneysweeps, organ grinders, and laborers. Although Nègre always identified himself as a painter, not primarily as a photographer, his photography began to influence his paintings. While he may have originally intended his photographs simply as studies, increasingly his paintings became iterations of his photographs. His ambition was to show photography's importance in the representation of modern life.
Nègre learned Talbot's calotype process from Gustave Le Gray in a variation inspired by the refinements of Blanquart-Evrard. It was these paper-based negatives that first revealed to Nègre the artistic potential of photography. He later took up and mastered the wet collodion on glass process.
Nègre's photographs of architecture and everyday life in his native region were to form the basis of a portfolio, Le Midi de la France, to be sold in fascicles of ten images. Printed by the firm H. de Fonteny this effort produced an extraordinary body of work, inspiring Andre Jammes and Eugenia Parry Janis to observe: "During the first half of the 1850s, Nègre grew as a photographic artist. He allowed unexpected results peculiar to the chemistry and mechanical manipulation of the camera to train his photographer's eye and in the process formalized an expressive photographic vocabulary. [His] Midi de la France pictures absolutely surpass all previous renditions of place and local color for nineteenth-century armchair travelers…"
In 1854, at the height of his creativity, Charles Nègre summed up his photographic philosophy: "being a painter myself, I have kept painters in mind by following my personal tastes… wherever I could dispense with architectural precision I have indulged in the picturesque."
Recommended reading:
Françoise Heilbrun, Charles Nègre, 1820-1880, Das photographische Werk (Munich: Schirmer/Mosel GmbH, 1988).
James Borcoman, Charles Nègre, 1820-1880 (Ottawa: The National Gallery of Canada, 1976).
Jacob W. Lewis, Sun Pictures Catalogue Twenty-Two, Charles Nègre (New York: Hans P. Kraus Jr. Inc., 2013).