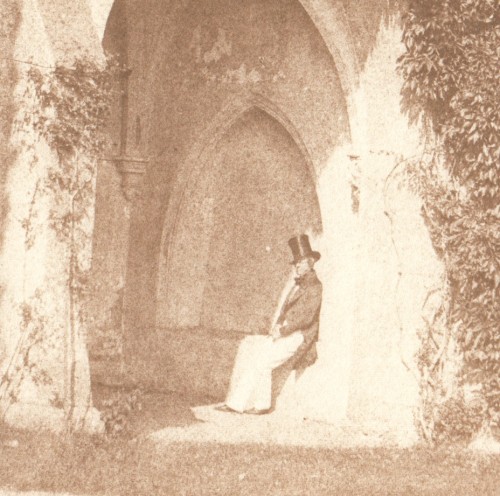 Reverend Calvert Richard Jones (Welsh, 1802-1877), a marine artist and a man of varied interests including mathematics, music, and painting, was introduced to photography by members of William Henry Fox Talbot's Welsh family. The two men, Jones and Henry Talbot, met through Talbot's cousin, Christopher Rice Mansel "Kit" Talbot, a patron and travelling companion. Jones's close friendship with Talbot's wealthy cousin brought opportunities for travel aboard Kit Talbot's yacht.
Jones learned drawing from John Ruskin's drawing master, James Duffield Harding. As his watercolor style evolved, Jones created street scenes and maritime studies of boats and characters seen in the harbor of his native Swansea. He was to carry over his highly developed artistic sensibility and maritime subject matter to the new medium of photography on paper, which by the mid 1840s Jones found much to his liking. Jones's training in art, especially marine painting, lends his photographs confidence in composition, tone, and scale. Initially mastering the daguerreotype, Jones's affinity for paper as a support drew him to Talbot's calotype process. While the calotype eschewed fine detail, it more successfully expressed a painterly sense of light, shadow and mass, which suited Jones's natural style. The paper prints were more closely related to his watercolors, and he hand-colored some of his salted paper prints, reporting to Talbot in 1846, "I have lately been colouring some copies of views which I have taken, and the effect is so wonderfully beautiful…"
In order to supplement his modest resources, and until he received an unanticipated inheritance, Jones started producing negatives specifically to sell to Henry Talbot. Jones's spring 1845 Mediterranean tour, for example, yielded a series of negatives of such high caliber that Talbot began purchasing them. Talbot subsequently loaned these negatives and others to Nicolaas Henneman at the Reading Establishment to produce prints for sale. The prolific Calvert Jones realized the inventor's ambition that others take up and perfect his art; his masterful photographs were sometimes made in collaboration with Talbot himself. Jones was also a friend of Hippolyte Bayard's and acted as a bridge between the English and French inventors.
Recommended reading:
Larry J. Schaaf, Sun Pictures Catalogue Five, The Reverend Calvert R. Jones (New York: Hans P. Kraus Jr. Inc., 1990)